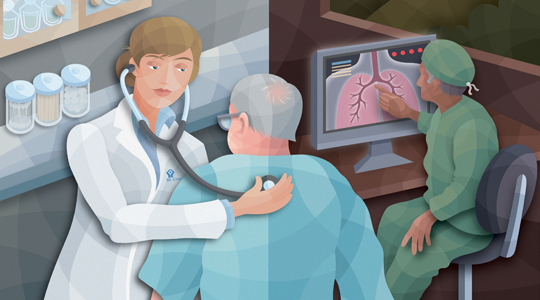 The Value of a Mayo Clinic Second Opinion
Looking for a Second Opinion?
Through St. Clair Hospital's clinical collaboration with Mayo Clinic, you as a patient, are able to receive a second opinion (eConsult) for a complex medical condition from a Mayo Clinic specialist at no cost. St. Clair physicians work closely with Mayo Clinic and are able to consult directly with a Mayo Clinic physician from any specialty. If you are interested in obtaining a Mayo Clinic second opinion, please speak with your St. Clair physician.
Read four real-life examples of a Mayo Clinic second opinion:
Every day across America, physicians make hundreds of thousands of diagnoses in hospitals, medical offices, clinics and nursing homes. They listen to their patients, examine them, ask questions, obtain laboratory and other diagnostic tests, and consider the reports of consultants. Many factors come into play: symptoms, timing and sequence of symptoms, past history, family history, lifestyle, and recent exposure to disease, among them. Physicians synthesize all this information and interpret its meaning as they seek a cause for their patients' symptoms. Using their senses, intellects, education, and the intuition born of experience, they diagnose.
Making a diagnosis is like conducting an investigation, similar to detective work, believes G. Alan Yeasted, M.D., Chief Medical Officer Emeritus at St. Clair Hospital. Mark V. Larson, M.D., a medical director at the Mayo Clinic Care Network, of which St. Clair is a member, describes diagnosis in this way: "It's like a jigsaw puzzle, where the image is revealed only after all the pieces come together." Both of these longtime, experienced physicians agree that diagnosis is both science and art. It is a complex process, often painstaking, of narrowing the possibilities through a comparative analysis known as a differential diagnosis. Diagnosis determines the course of treatment and informs decision-making so that things can move forward, toward a cure, improved health, or the easing of suffering.
A diagnosis can be many things, but one thing it cannot be is wrong. The wrong diagnosis can mean delayed, inappropriate or unnecessary treatment; time lost; complications that cause harm or injury to the patient, and even death. In 2015, the Institute of Medicine (IOM) issued a report, Improving Diagnosis in Health Care, a continuation of the landmark 2000 study of medical errors, To Err Is Human: Building a Safer System. The new study says that diagnostic errors are a blind spot in health care that has not been adequately addressed, despite the intense industry focus on patient safety and quality. The IOM estimates that 5 percent of U.S. adults who seek outpatient care every year experience a diagnostic error. Reducing errors is not enough, the report says: the focus needs to be on improving diagnosis.
That is the goal for all health care providers across the U.S. and the daily quest of Mark L. Graber, M.D., FACP, Senior Fellow at Research Triangle International in North Carolina and the founder and president of the Society to Improve Diagnosis in Medicine. Dr. Graber, a leading national expert on diagnosis and diagnostic error, describes making a diagnosis as one of the greatest cognitive challenges for human beings. "There are over 10,000 known disease conditions and only about 200 total symptoms, and symptoms can be vague," he says. "Diagnosis is very, very complicated and it takes time to get it right."
And yet, physicians do get it right, nearly always. "The United States has the best medical care in the world, and the public should trust their physicians," says Dr. Graber. "They get it right at least 90 percent of the time." Dr. Graber has high praise for a study by Mayo Clinic published earlier this year in the Journal of Evaluation in Clinical Practice, which says that one way to improve diagnostic accuracy is through referrals to specialists and second opinions. "Second opinions have a role in improving diagnostic reliability and I encourage them," says Dr. Graber. "Studies in radiology and pathology, where second opinions are the standard, show that without a doubt, second opinions are very valuable. Fresh eyes catch mistakes. Second opinions are a promising way to get us beyond that 90 percent figure."
But getting second opinions is not always a simple matter. Many obstacles exist: will my insurance cover a second opinion and, if not, can I afford it? Will my doctor be offended if I request one? How do I go about finding a doctor to give a second opinion?
At St. Clair Hospital, no such obstacles exist. By virtue of its collaboration with Mayo Clinic, St. Clair has access to second opinions from experts in every specialty at the Rochester, Minnesota-based health system. One of the primary benefits of being a member of the Mayo Clinic Care Network is the opportunity for St. Clair physicians to connect, physician to physician, to discuss diagnostic challenges, rare diagnoses, and difficult clinical problems. Using electronic connections, St. Clair physicians can get feedback that enables them to confirm a diagnosis, validate the treatment plan, fine tune a diagnosis or treatment plan, or get suggestions for ongoing management of the patient. Doctors are finding the process easy and very useful, and patients are grateful for the expertise that these consults bring to their respective medical situations. For patients, Mayo Clinic eConsults are effortless: there is no cost, no need to travel, and no inconvenience.
Every patient does not need a second opinion. But when the problems are rare or complex, a referral for a second opinion is an essential component of good care and can be, in some instances, lifesaving. "A second opinion may provide the patient and his or her physician with peace of mind," says Dr. Larson of the Mayo Clinic Care Network. "The physician knows that he or she has done everything to help the patient, and the patient can appreciate the physician more because the physician is willing to ask for assistance. A timely second opinion reassures both that the diagnosis is correct and the treatment recommendations are appropriate."
Physicians always want to do the best for their patients, and that includes getting a second opinion when it is appropriate. At St. Clair, the goal is to provide the best care possible. Through advanced technology and a spirit of collaboration, St. Clair is bringing Mayo Clinic's expertise to the diagnosis and treatment of patients throughout the region.