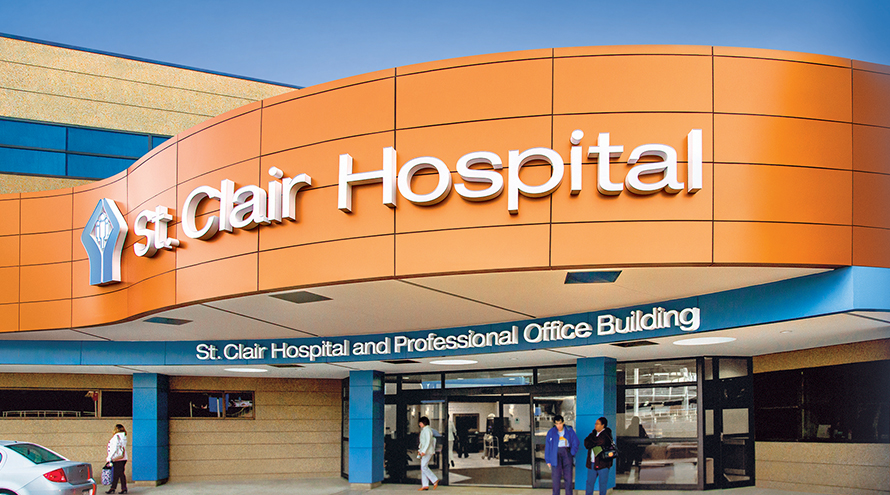 St. Clair at a Glance
Home / St Clair Info / About St. Clair
St. Clair Hospital is a highly honored, independent, 329 bed acute-care medical center that provides advanced, high quality health care to the residents of southwestern Pennsylvania. A member of the Mayo Clinic Care Network, St. Clair has 600 physicians and 2,500 employees. St. Clair Hospital is the largest employer in Pittsburgh's South Hills.
Providing virtually every health care service that residents may need throughout their lives, the Hospital is focused on continuously enhancing its services and technologies to ensure that the community's health needs are met. The Hospital offers a comprehensive array of high-quality inpatient and outpatient services, including advanced cardiovascular services; specialized care for women and children; oncology services; orthopedics; emergency care; urgent care; and psychiatry and mental health services. For a complete A to Z listing of all services available, click here.
St. Clair is a top decile performer in patient safety, clinical outcomes, patient satisfaction, and value. This year, the Hospital earned its 20th consecutive 'A' grade from The Leapfrog Group for hospital safety, ranking among the top 1.1 percent of hospitals in America. In 2021, St. Clair was once again recognized as one of nation's 100 Top Hospitals, marking the seventh time St. Clair has achieved this prestigious honor. Moreover, the Centers for Medicare & Medicaid Services (CMS) awarded St. Clair Hospital a 5-star quality rating in 2021, the highest rating available. It was one of only two 5-star rating awarded in western Pennsylvania.
With its main campus in Mt. Lebanon, the Hospital also offers health care services at three outpatient centers; Dunlap Family in Mt. Lebanon, Village Square in Bethel Park, and Peters Township. St. Clair accepts all major insurances. Click here to find a St. Clair location near you.