St. Clair Health Appoints Rich Taylor as Vice President of Facilities Management & Operations
Current Executive Promoted to Senior Management Role

PITTSBURGH, PA (April 1, 2022) – St. Clair Health, a nationally recognized, integrated health system serving the residents of southwestern Pennsylvania, today announced the appointment of Rich Taylor as Vice President of Facilities Management & Operations.
Taylor has more than two decades of management experience. He began his career in the construction industry, serving as a project manager for Baltimore companies including Plano-Coudon,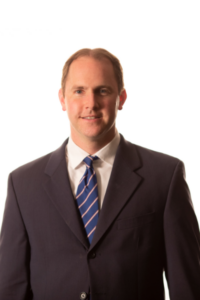 LLC and The Whiting-Turner Contracting Company. He then transitioned to healthcare with progressively responsible roles at UPMC, before joining St. Clair Health in 2017 to oversee construction of the Dunlap Family Outpatient Center—the largest addition to the main Hospital campus in St. Clair's history.
"I've been very impressed with Rich's work," said James M. Collins, president and CEO of St. Clair Health. "In addition to successfully bringing to fruition a very complicated project like the Dunlap Family Outpatient Center, Rich has established a patient-first—and people-first—approach that is consonant with our core values as one of the nation's leaders in quality and patient satisfaction."
In his new position, Taylor will oversee facilities management and multiple support departments across all St. Clair Health facilities. This includes the main Hospital campus and the three outpatient centers located in Mt. Lebanon, Bethel Park, and Peters Township.
"In my prior role, I enjoyed building spaces that helped to elevate the patient experience. In my new role, I look forward to working across departments to create environments that better serve our patients, our staff and our community," said Taylor. "Plus, I 'm grateful that this opportunity allows me to continue serving the community my family and I call home."
Taylor holds a Bachelor of Science in civil engineering from Lehigh University. He resides in Mt. Lebanon with his wife, Lauren; their children Emma, Charlie, and George; and their beloved basset hound, Mabel.
About St. Clair Health
St. Clair Health is a nationally recognized, integrated health system with more than 2,500 employees and 600 physicians serving 500,000 residents of the region. It encompasses St. Clair Hospital; St. Clair Medical Group—a 135-physician multispecialty group; St. Clair Health Foundation; and other related entities. In 2016, St. Clair Health became a member of Mayo Clinic Care Network. As a leader in high value healthcare, it participates with all major insurers. For more information, visit: www.stclair.org.
# # #