So you never miss a beat – Tim's story
Do you ever wonder why physicians listen to your heartbeat with a stethoscope during a physical exam? There could be many reasons but one of them is to detect an abnormal heart rhythm. Often times an abnormal heartbeat can go undiagnosed for years due to not following up on your annual routine appointments.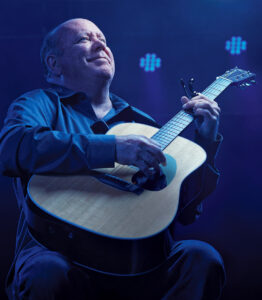 Tim, a 70 year-old Peters Township resident, is a father of four wonderful children, and was blessed with five grandchildren. His two favorite things in life are spending time with his large family and playing his guitar at open mic nights. When Tim realized he was having difficulty breathing, he knew it was time to see a doctor.
Tim was first diagnosed in 2013 with atrial dysrhythmia—an irregular, often rapid heart rate that commonly causes poor blood flow. As time progressed, his trouble with breathing created barriers during his daily activities and his condition had to be monitored more frequently. In 2018, Tim's heart rhythm increased rapidly and he was referred to see cardiologist, Dr. Jeffrey Liu, Director of Electrophysiology at St. Clair Health.
To find the core issue, Dr. Liu ordered an EKG to determine the exact condition. An electrocardiogram (EKG) measures the electrical activity of the heart and will detect whether your heart is beating too fast or too slow. "They immediately knew what the problem was—I was diagnosed with Atrial Fibrillation (A-fib)," said Tim. A-fib is a type of abnormal heart rhythm which is caused by extremely fast and irregular beats from the upper chambers of the heart.
"Symptoms from Atrial Fibrillation (A-fib) can be quite variable, ranging from minimal awareness to more commonly a sensation of a racing or skipped heartbeat. Many times symptoms can be more subtle and vague such as fatigue and loss of energy," says Dr. Liu.
"I was completely shocked at first with my diagnosis. I have been an Addiction Interventionist and Treatment Specialist for over 30 years. I play guitar in a local band and also perform solo acoustic concerts. I also have an unusual sense of humor which makes me a perfect candidate for standup comedy and lastly, I'm a grandfather to five incredible kids. I am a very busy man and I was not ready to give everything up yet," said Tim.
Dr. Liu performed an ablation on Tim, which is a procedure that ultimately improves a person's heart rate and prevents reoccurrence.  Dr. Liu had complete confidence that the cardiovascular team at St. Clair could resolve Tim's irregular heartbeat. Following the successful procedure and taking the right medication, Tim was back to feeling like himself.
Even after a successful procedure, A-fib is a condition that can return for patients. "A-fib is a chronic progressive condition—it's one way the heart shows signs of aging. Medication and treatment can be very effective in dramatically delaying the progression. However, even with a very successful procedure, it is not uncommon for recurrence of A-fib at some point simply due to the chronic nature of the condition. At that time, consideration of a repeat procedure is a valid possibility," says Dr. Liu
In September 2021, Tim was experiencing difficulty breathing again and knew that he needed help. Tim was rushed to St. Clair's emergency room. "In spite of trying to convince the emergency room physician that my heart had to beat at a faster rate just to keep up with my busy lifestyle, I had to be admitted," said Tim. The cardiovascular team performed a second ablation the very next day which uses energy to make small scars in the heart tissue to prevent abnormal electrical signals from moving through the heart.
"Since that day, I have never felt better," said Tim. "The recovery period was no more than a few days and I was soon back on stage, never missing that beat." Tim is now back to enjoying time with his family and continuing forward with his busy lifestyle—keeping that rhythm on stage and waiting to use that next punchline.
JEFFREY A. LIU, M.D. FHRS
Dr. Liu specializes in cardiovascular diseases, interventional cardiology and cardiac electrophysiology. He earned his medical degree at Jefferson Medical College, Philadelphia. He completed a residency in internal medicine at the University of Maryland Medical Center, served as Chief Resident at the Baltimore VA Medical Center, and completed fellowships in Cardiovascular Medicine and Cardiac Electrophysiology at UPMC. Pittsburgh Magazine named him a Top Doctor for 2021 in Cardiac Electrophysiology. Dr. Liu is board-certified in cardiovascular diseases, cardiology, cardiac electrophysiology and internal medicine by the American Board of Internal Medicine. He practices with St. Clair Medical Group. To contact Dr. Liu, please call 412.942.7900.