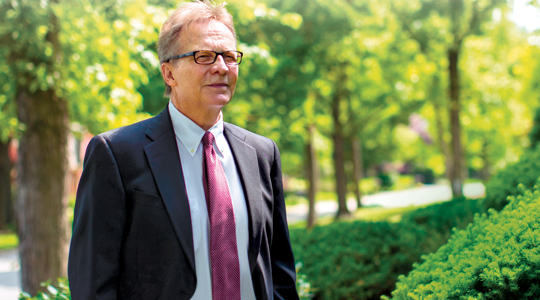 Richard's Story
It could be said that Upper St. Clair resident Richard Kapusta, Ph.D., is a man of exceptional vision. As a child psychologist, he sees the hurts and fears of troubled children and helps them find their way. As a teacher in the graduate schools at Duquesne University and California University of Pennsylvania, he helps students envision their future careers. When the school year ended in the summer of 2016 for Bethel Park School District, where Richard worked as a school psychologist, he took the opportunity to schedule cataract surgery. Cataract surgery is one of the most common operations performed in the U. S., and according to the National Institutes for Health, it is also one of the safest and most effective. Richard, 67, anticipated that he would sail smoothly through the experience.
The procedure at a Pittsburgh-based surgery center went well. But one week later, he awakened to find a gray area in his vision; by the end of that day, he had undergone a procedure to repair five retinal tears and two detachments. In Richard's case, it was an emergency procedure to avoid losing his vision. The repair procedure, vitrectomy, involves draining vitreous fluid (the gel-like substance in the eye) to make space for the insertion of an air bubble that presses against the retina to hold it in place while it heals and re-attaches. The procedure itself is usually well-tolerated, but the post-operative recovery is extremely challenging. In the eye, the air bubble rises to the top, but the retina is at the back of the eye; to get the bubble to float into place and stay there, holding the retina, a nearly constant face-down posture is necessary. "I had to be positioned sitting fully face down all day, with 10-15 minute breaks only," Richard recalls. "I had to sleep on one side. I had to do everything face down, including eating, for two weeks. I could barely do anything; I got through it with books on tape and listening to baseball."
After 30 days, his retina seemed stable and he was released from care. But a new retinal detachment in August — his third — meant going through the entire ordeal all over again. "This time, the doctors placed a 'scleral buckle' in my eye to hold the retina in place," he says. "I still had to do the face-down positioning."
It was frustrating and tedious, and Richard says he got through the ordeal both times only because of the unwavering support of his wife, Sue. Through her efforts, Richard acquired a vitrectomy recovery chair, with flexible body supports and adjustable mirrors that made TV viewing possible. "My wife focused completely on my care and recovery, and did everything she could to help me; I was basically helpless."
Richard also gives credit to the skilled retinal specialists here in Pittsburgh who saved his vision. The scleral buckle they placed last summer has been effective, but swelling in the retina has persisted. So, when Sue reminded him that St. Clair Hospital was a member of the Mayo Clinic Care Network, and suggested he pursue a clinical eConsult with a Mayo Clinic specialist, he agreed that it was a great idea. He approached his primary care physician, Karl E. Bushman, M.D., FACP, an internist with the Mt. Lebanon Internal Medicine division of St. Clair Medical Services, about pursuing an eConsult.
The issue, Dr. Bushman says, was: which medications were best for treating persistent macular edema after multiple retinal detachment surgeries? This was not a case that you would see in a textbook; we needed an expert retinal specialist with a lot of experience.
Mayo Clinic provided exactly that. Sophie J. Bakri, M.D., Mayo Clinic retinal specialist, responded with a concise and specific consult that validated the treatment plan in Pittsburgh. "The Mayo Clinic consult puts a horizon in front of you," says Dr. Bushman, "so that you can see everything laid out, all the possibilities that lie ahead. They validated the treatment and made suggestions about potential problems. They also consulted another specialist, who further confirmed that we were giving the correct treatment."
For Richard, the consult was everything he had hoped for. "I was able to obtain a consult from a cutting-edge institution with a global reputation for excellence in clinical expertise and research, and I was able to have that without having to leave home, have any further tests or assessments, without having to spend a dime of my own money or have it billed to my health insurance. It's almost unbelievable. I'm so impressed that St. Clair has made this possible for the people of our community.
"Dr. Bushman and his staff took care of every detail and I cannot say enough about their competence and professionalism. It's been a long process, but hopefully the edema will be fully resolved soon. My vision is 20/20 now; I can read, drive and work again, and I love my work. Vision is precious, and my vision was saved by these doctors and institutions collaborating. In my situation, the art and science of medicine came together, and I'm grateful."