Patient Estimates: A Look At St. Clair Hospital's Newest Patient Tool
As the world of healthcare financing grows increasingly complex, many patients find it difficult to keep track of the services that are, and aren't, covered by their health insurance. As a result, patients sometimes find themselves dealing with unexpected bills after a hospital or doctor visit.
Recently though, St. Clair Hospital has been making headlines for taking on this challenging issue. To help create more transparency in local healthcare options, we've created a new online tool – Patient Estimates.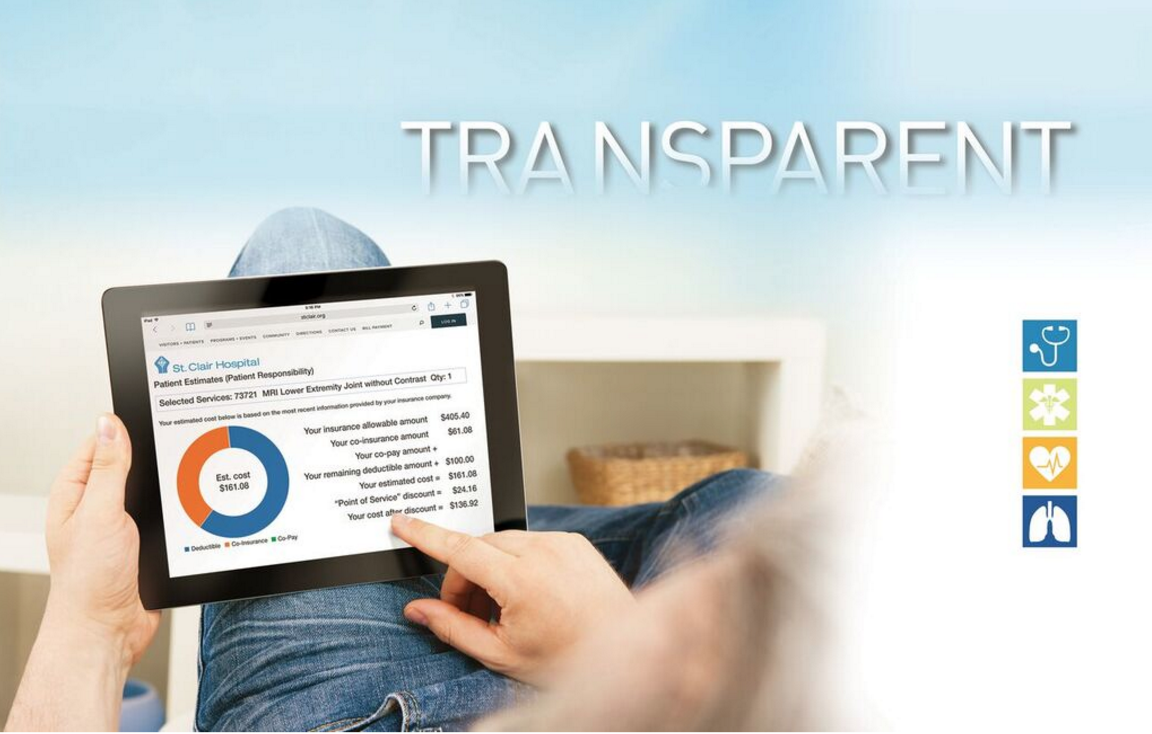 Understanding The Importance Of Patient Estimates
The recent rollout of Patient Estimates has given St. Clair a chance to address a long standing issue regarding health insurance. Traditionally, patients have not had access to cost information prior to services. As a result, patients would learn about their final out-of-pocket costs weeks after a procedure or test.
Patient Estimates was designed to help users learn what their estimated out-of-pocket costs will be for services at St. Clair Hospital or its Outpatient centers before they receive care – thus providing an opportunity to plan their healthcare needs and budgeting accordingly.
St. Clair is the first hospital in the region to offer this type of cost estimate service. Richard C. Chesnos, Senior Vice President & Chief Financial Officer at St. Clair, says St. Clair is excited to offer this tool to patients, particularly given St. Clair's reputation as a hospital long recognized for its innovation and awards. St. Clair's patient safety and clinical outcomes, as well as our nation-leading patient satisfaction levels, are renowned in the healthcare world.
"We want our patients to feel secure knowing, upfront, how much their care will cost them," according to Richard, who believes this tool is one of the most meaningful resources a patient can access and use today.
"People can come to the website to learn what their financial responsibility will be for that test or procedure. Our tool gives you true out-of-pocket costs, whether you have insurance or not."
The Ins and Outs of Patient Estimates
Developed by Experian Health, Patient Estimates is an interactive tool that provides specific information as requested by individual users. It's accessible 24/7, and available to all Internet users. And just as importantly, it's simple to use and convenient.
Patients may freely access Patient Estimates on the Hospital's website, stclair.org. To use the tool, all one needs to do is:
Select the Patient Estimates block within the Financial Tools list of options.
Enter their insurance information.
Select one of the listed clinical services and choose a specific diagnostic test, procedure or treatment.
The tool then takes the information provided and gives a customized estimate of what a user's out-of-pocket costs are likely to be.
Transparency In Healthcare: A Changing Landscape
The addition of Patient Estimates is an important step for St. Clair Hospital, especially given that transparency in healthcare is a growing trend in hospitals throughout the country.
"Today's healthcare consumers are educated and informed," according to Richard. "They're thinking as consumers and demanding more. They want the information so that they can manage their healthcare budget and make the best choices for their circumstances and needs."
Every patient in our care deserves a chance to make a decision that's right for their needs. With the launch of this latest online tool, we're striving to help patients have the best possible healthcare experience here at St. Clair Hospital.
Want to read more about what's happening at St. Clair? You can catch up on the latest news by downloading the most recent edition of St. Clair Hospital's HouseCall magazine.