Enhancing Quality Of Life Through Prostate Cancer Care Advancements
Prostate cancer remains the second most common cancer among men, with more than 260,000 cases diagnosed each year. Plus, it is the second leading cause of cancer deaths among men, behind only lung cancer. That's why board-certified urologist Arthur D. Thomas, MD, is focused on enhancing every patient's quality of life through advancements in curated care at St. Clair Health.
"It's important to build a treatment plan that is not only the best course of action for a man's risk level, but also one that best matches his lifestyle and will meet his short- and long-term goals," explains Dr. Thomas. "I work hand-in-hand with patients to determine exactly how acute treatment will be, taking into account factors such as their age, overall health, and stage of the prostate cancer."
Active Surveillance
What many men may not know is that sometimes, the best treatment for prostate cancer is actually no treatment. In fact, Dr. Thomas often recommends active surveillance in cases where treatment poses risks greater than the benefit of curing the cancer. He says, "For a large percentage of men with prostate cancer, we can take a step back and monitor both the cancer and quality of life at the same time."
Active surveillance entails regular tests such as prostate-specific antigen (PSA) blood tests, rectal exams, and imaging technology to check on the growth of the cancer. Newer and high-quality imaging technology can help avoid a prostate biopsy in some patients and enable doctors to better visualize cancer in the prostate. Which tests a man undergoes and how often they are completed depends on his individual situation.
"At St. Clair Health, we offer the most up to date prostate imaging available, including prostate MRI and PSMA PET imaging," shares Dr. Thomas. "The MRI can be helpful in all aspects of prostate cancer care, from assisting with screening to determining how advanced the disease is at diagnosis. Our newest imaging, PSMA PET, can detect metastatic disease much earlier in its course than previously available standard imaging."
Innovative Treatments
For men with fast-growing prostate cancer or cancer that has expanded beyond the prostate, there are several new approaches that can help slow the spread, relieve symptoms, and prolong life in cases where the disease can't be cured. Today, life expectancy is likely to be years longer for a man with prostate cancer that has metastasized or continues to grow despite treatment.
Just last year, the U.S. Food and Drug Administration (FDA) approved a new radiopharmaceutical treatment that delivers a high dose of radiation directly to the areas of disease but bypasses healthy cells throughout the body. This targeted treatment has been a game-changer in the management of advanced prostate cancer, as it prolongs survival while mitigating side effects.
Dr. Thomas emphasizes, "This new treatment is in addition to many other systemic treatments for advanced prostate cancer that have become available recently.
To request an appointment with Dr. Thomas, please call 412.942.4100 or visit physicians.stclair.org/scmg-urology/.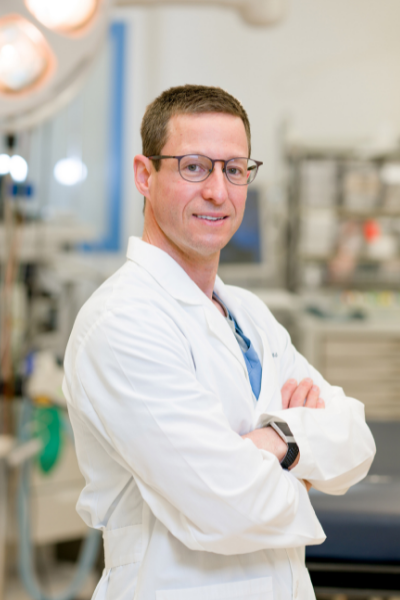 Arthur Thomas, MD
Arthur Thomas, MD, earned his medical degree at the University of Pennsylvania, where he also completed a residency. He was named a Best Doctor in Urology by Pittsburgh Magazine in 2022. Dr. Thomas is board-certified in urology and practices with St. Clair Medical Group Urology.