Doctors With Local Ties
Sometimes, you just know. And for Elizabeth J. Pronesti, M.D., FACOG, an OB/GYN with St. Clair Medical Group, precocious awareness made her want to tell the whole world. "First grade, second grade, all through school—whenever you'd get that assignment or really if anyone even asked, 'What do you want to be when you grow up?' my answer was always the same," she says.
Wanting to become a doctor also meant actively looking for ways to get started on her path. The Scott Township native began her St. Clair Health journey as a volunteer in the Snack Shop. "I really wanted to get my foot in the door— whatever it was going to take to start experiencing the hospital environment. So entering high school, I reached out to peers who were ahead of me and learned from what they were doing," she says.
Dr. Pronesti transitioned from waiting on customers to clerical work with Lifeline, the emergency call button service. That role expanded to include interactions with patients on the phone over more than 200 volunteer hours. "I was hooked—and looking back, it was such valuable experience. I really enjoyed learning something new every day, which is something that continues to carry through today at St. Clair," she says.
After her junior year, Dr. Pronesti achieved acceptance into the prestigious Pennsylvania Governor's School for Health Care at the University of Pittsburgh—a summer program that gives rising high school seniors an expanded look at their potential future fields. "I always liked biology, and the program provided hands-on experiences and research opportunities across the different areas of healthcare. That was such a great experience—being able to shadow physicians and interact with other aspiring doctors really solidified my goal of becoming a doctor one day," she says.
With a pair of physician-parents, those who know Mary J. Sims, M.D., MA, an OB/GYN with Advanced Women's Care of Pittsburgh, might be inclined to say that becoming a doctor is the family business. Dr. Sims gets a good chuckle out of that perception. "I have three siblings, and I'm the only one that went into medicine," she says. "I have had the opportunity to have incredible role models both personally and professionally. They taught me not only how to work hard, but exemplified the importance of providing the greatest level of care to every patient."
While Dr. Pronesti grew up keen on biology, Dr. Sims once intended to study kinesiology in preparation for a career in sports medicine, "I was very tall in the fifth grade and loved playing basketball and running track. Playing sports was my passion and my initial interest was in physiology."
After completing her undergraduate work in kinesiology at Penn State, the Mt. Lebanon native conducted postgraduate research in the female athlete triad at Boston University. The diagnosis encompassing menstrual dysfunction, decreased bone mineral density, and energy drain or calorie deficit, often prevalent in young female athletes, made her realize how she could make a bigger impact. "I became enamored with all of the different aspects of women's health," Dr. Sims says. "After initially looking through the lens of athletics, researching all of the other components and challenges that women experience—and how those elements are connected—made me want to pursue a career in medicine."
What Dr. Sims found in the OB/GYN Department at Drexel University shaped the perspective that ultimately led her back to where it all began. "Experiencing different subspecialties opened my eyes to what is really important: creating connections with patients. Drexel does a phenomenal job of taking care of the women of Philadelphia—and they're so passionate. I wanted to bring that same passion back to Pittsburgh and deliver expert-level care to the women of my hometown," she says.
Dr. Sims joined Advanced Women's Care last year after completing her OB/GYN residency with AHN West Penn Hospital. "The driving force through those four years was to learn as much as I could from everyone around me. My goal is to help every patient feel as comfortable as possible in the face of any challenge, and sometimes, even something as small as knowing where your doctor is from—in my case, right down the road—creates the connection that can enhance
that level of comfort," she says. "It's one of the biggest reasons why I'm here."
Although Dr. Pronesti's path was more direct, she did experience a pull from different subspecialties—particularly those that included time in the operating room—after matriculating from undergraduate neuroscience studies at the University of Pittsburgh to their School of Medicine. With St. Clair's Chief of Neurology, Dr. Maxim D. Hammer, serving as her research mentor, she considered neurology and general surgery. "Then I got to my OB/GYN rotation, and I found myself in tears whenever a baby was born—I would actually get mad when I knew the end of my shift was coming because I didn't want to go home," she says. "There's just so much joy within this field. I realized that it was the best of both worlds: the specific surgical aspects, which I really love, and also the long-term continuum of care, which is really unique."
She matched at UPMC Magee-Women's Hospital for residency, where she served as Administrative Chief Resident, and signed on with St. Clair two years before graduation. In much the same fashion that she always knew she wanted to become a doctor, Dr. Pronesti has long known exactly where she wanted to be when that day came.
"St. Clair's reputation for excellence and continuous clinical training and compassion at bedside is unmatched," she says. "As an OB/GYN, I depend on my partners just like our patients do. And everything I've experienced here tracks back to that—everyone I work with cares for our patients like they're one of our own family members."
That closeness stems from the village of women who raised Dr. Pronesti.
"I was raised by my mom, extremely close to my grandmother, and my aunt is like a second mom to me. It was almost like I had three moms, plus my sister, and the five girls were always together. I come from a family of strong women who are extremely close, which is why women's health is so important to me," she says. "It's an honor to be able to advocate for and partner with women in the South Hills community—to experience every day some connection with a neighbor down the street or a friend of a friend that's been referred to me. When a patient refers their own daughter to me, that is really the ultimate honor—there's just so much trust in that. I put the same trust in my partners who delivered both of my children at St. Clair's Family Birth Center."
Dr. Sims echoes that literal everyday trip down memory lane.
"My grandfather was really sick when I was young. He moved in with us while I was in elementary school and I would come home every day and want to take care of him, just to be by his side and tend to anything that he needed," she says. "I was very fortunate to grow up here and have such a supportive community around me."
More than nostalgia, she seeks the privilege within. "I feel very grateful for the opportunity to be part of the St. Clair community where I can provide OB/GYN care to patients at every juncture of their life while developing long-term relationships," she says.
ELIZABETH J. PRONESTI, M.D.
Dr. Pronesti specializes in obstetrics and gynecology and is board-certified by the American Board of Obstetrics and Gynecology. She earned her undergraduate degree in neuroscience from the University of Pittsburgh and her medical degree from the University of Pittsburgh School of Medicine. She then completed residency at UPMC Magee-Womens Hospital, where she served as administrative chief resident. In training, Dr. Pronesti earned awards for excellence in high risk obstetrics, female pelvic medicine, and laparoscopic surgery. She practices with St. Clair Medical Group. To contact Dr. Pronesti, please call 412.942.1066.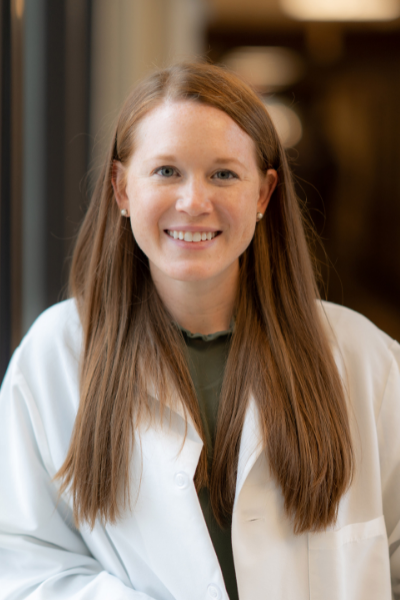 MARY J. SIMS, M.D.
Dr. Sims specializes in obstetrics and gynecology. She graduated from Drexel University College of Medicine and completed residency at AHN West Penn Hospital. She practices with Advanced Women's Care of Pittsburgh. To contact Dr. Sims, please call 724.941.1866.