A rapid response call goes out overhead. It's coded to the Hospital cue card; it's known by heart. Whatever the patient needs, Michael G. Lane, R.N., Nurse Intensivist, is ready to answer the call.
"Intensivists are always available to help out on the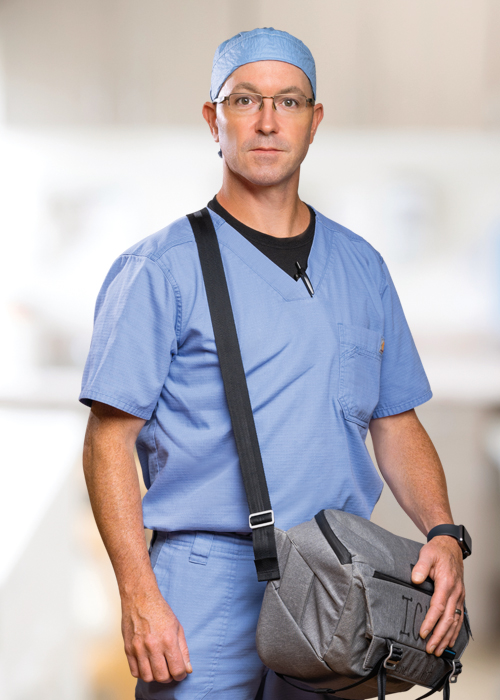 floor with many things. From the Cardiac Cath Lab to interventional radiology, we're here seven days a week to help make everyone's job a little easier," he said. Nurse Intensivist is a unique position that was created to aid the nurses and physicians in the acute care setting.
Mr. Lane began his career at St. Clair as a staff nurse on the surgical floor. Three years later, he transferred to the ICU on the day after 9/11. "The efforts made by people in New York were truly humbling. I will always remember that." A profound sense of compassionate collaboration has been a driving force for Mr. Lane for more than two decades.
"I'm a big believer in teamwork and I could never do my job without the help of our physicians, respiratory therapists, nursing staff, physical and occupational therapists, dieticians, and more. They are all integral parts of our team in the ICU and throughout the Hospital."
The former high school wrestler who still plays recreational indoor volleyball gets his steps in going from floor to floor and service line to service line equipped with arguably the world's most advanced fanny pack.
"Our emergency point-of-care technology (EPOC) is really something. We're able to draw blood and get actionable results in 30 seconds without having to send it to the lab, so we can triage the patient right there and know what we need to do, whether that means transferring them to the ICU or managing their case on the floor."
Nasal swabs, probes, portable ultrasounds, and more put a robust suite of innovative life-saving diagnostic power right in the palm of Mr. Lane's hands.
"During rapid responses, we help initiate stroke alerts. If somebody's crashing, we can do an echocardiogram. If there's a cardiac arrest, we can help get the needed access right at the femoral or jugular. Even moderate sedations—we're trained in a wide variety of ways to answer the call."
A lifelong resident of Castle Shannon, PA, Mr. Lane will celebrate his 24th anniversary at St. Clair Health in January. "The collaborative culture is what keeps me here—all the great work everyone comes together to do. I help them, but they really help me a lot, too."
And in many ways, our 2005 Cameos of Caring® recipient feels like he's still just getting started.
"My job is always exciting because our role is always evolving, and COVID certainly added to our intense perspective in treating patients with acute injuries. It's been a privilege to watch the Hospital grow during my career, and I can't wait to see what opportunities will present to expand our critical care capabilities in the future."
Expert care from people who care. It's more than our tagline — it's the relentless drive we bring to carry out our mission every single day. Interested in joining the team? Follow St. Clair Health Careers on Facebook and LinkedIn or visit stclair.org.